Carts allow your animals to carry more cargo. There are many different kinds of carts that all give different benefits. Most carts are very expensive and they are not recommended to get until later in the game. Cart prices can vary depending on their mechanical condition and whether it's being bought at a Transport Store or a General Store. Buying a cart with a higher mechanical condition is cheaper than repairing one with less.
All animals except for the sheep and goat are capable of pulling a cart. Vehicles cannot pull any carts whatsoever. Carts require Lubricant to keep it from suffering noticeable damage.
With adequate mechanic skill, carts will not take any damage from regular use. If it is high enough, it is possible for carts to remain undamaged even without lubricant.
Calculations
Edit
To determine the load with the cart, multiply the load of the animal/vehicle by the multiplier and then subtract the weight of the cart. If it exceeds the maximum load, adjust the load to that.
Cart capacity = Animal's capacity * Capacity multiplication - Cart weight
Cart capacity ≤ Cart Max Load

Examples:
Donkey (Max load of 57) and a small cart (Capacity Multiplier of 3 and Weight of 40) = (57 * 3) - 40 = 131
Horse (Max load of 105) and a small cart (same as above) = 275 reduced to cart's max load of 150
Recommended cart by animal's capacity:
Small Cart: 20 to 72
Medium Cart: 89 to 128
Large Cart: 129 to 200
Fiberglass Cart: 8 to 88
Metal Cart: 200+
Calculation of upper recommended limit: ( <Weight of next stronger cart> + <Capacity of cart> ) / <Capacity multiplier of next stronger cart>, rounded down.
This is because an animal+cart combo that barely caps out the benefit of the cart will not reach the same capacity with the next higher cart, due to increased cart weight.
Quick Information
Edit
Table of Carts
| Cart | Minimum Animal Capacity | Maximum Cart Capacity | Recommended Animal Capacity | Weight | Passengers | Capacity Multiplier | Mechanical Condition | Resistance (D-F-E) |
| --- | --- | --- | --- | --- | --- | --- | --- | --- |
| Small Cart | 14 | 150 | 20 to 72 | 40 | 1 | 3 | 200 | 5-50-5 |
| Medium Cart | 22 | 300 | 89 to 128 | 55 | 2 | 3 | 250 | 1-50-5 |
| Large Cart | 29 | 450 | 129 to 200 | 85 | 3 | 3 | 270 | 5-50-5 |
| Fiberglass Cart | 6 | 200 | 8 to 88 | 20 | 1 | 3.5 | 200 | 1-50-5 |
| Metal Wagon | 50 | 1000  | 200+ | 150 | 6 | 3 | 300 | 30-40-40 |
Small Cart
Edit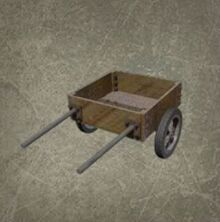 | | |
| --- | --- |
| Minimum Animal Capacity | 14 |
| Maximum Cart Capacity | 150 |
| Capacity Multiplier | 3 |
| Passengers | 1 |
| Weight | 40 |
| Mechanical Condition | 200 |
| Lubrication | 0.5 |
| Damage Resistance | 5 |
| Fire Resistance | 50 |
| Explosion Resistance | 5 |
Medium Cart
Edit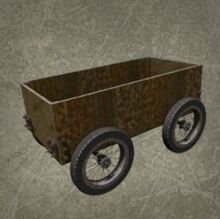 | | |
| --- | --- |
| Minimum Animal Capacity | 22 |
| Maximum Cart Capacity | 300 |
| Capacity Multiplier | 3 |
| Passengers | 2 |
| Weight | 65 |
| Mechanical Condition | 250 |
| Lubrication | 1.0 |
| Damage Resistance | 1 |
| Fire Resistance | 50 |
| Explosion Resistance | 5 |
Large Cart
Edit
| | |
| --- | --- |
| Minimum Animal Capacity | 29 |
| Maximum Cart Capacity | 450 |
| Capacity Multiplier | 3 |
| Passengers | 3 |
| Weight | 85 |
| Mechanical Condition | 270 |
| Lubrication | 1.0 |
| Damage Resistance | 5 |
| Fire Resistance | 50 |
| Explosion Resistance | 5 |
Fiberglass Cart
Edit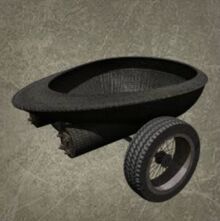 | | |
| --- | --- |
| Minimum Animal Capacity | 6 |
| Maximum Cart Capacity | 200 |
| Capacity Multiplier | 3.5 |
| Passengers | 1 |
| Weight | 20 |
| Mechanical Condition | 200 |
| Lubrication | 0.5 |
| Damage Resistance | 1 |
| Fire Resistance | 50 |
| Explosion Resistance | 5 |
Metal Wagon
Edit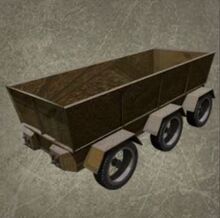 | | |
| --- | --- |
| Minimum Animal Capacity | 50 |
| Maximum Cart Capacity | 1000 |
| Capacity Multiplier | 3 |
| Passengers | 6 |
| Weight | 150 |
| Mechanical Condition | 300 |
| Lubrication | 2.0 |
| Damage Resistance | 30 |
| Fire Resistance | 40 |
| Explosion Resistance | 40 |