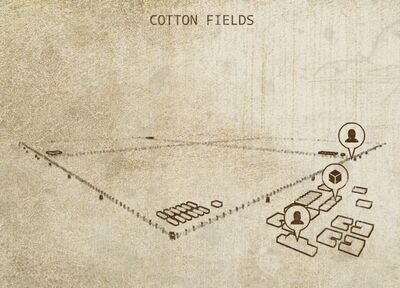 The cotton fields are where the Workforce Merchants slaves grow cotton. You also find Olaf here.
Alcohol and cannabis are illegal at this location.
Locations
Edit
Warehouses
Edit
Sells cotton, insects, water, and slaves
Slavery is legal at this location.
Industries
Edit
Town's Industries
Edit
Water Well
Cotton Cultivation
New Industries
Edit
Special Characters
Edit
Chief Guard
Edit
Person responsible for safeguarding all the slaves working in the Cotton Fields
Arranges for Olaf's release
Appears after the chief guard helps him escape the cotton field
Disappears after you take him with you
Remember to forage before entering cotton fields to prevent dying on the way back since there is no forage to be bought in cotton fields.