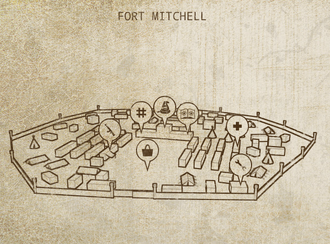 A major town in the Alkubra region. It used to be a military base but has now become a town. The main building is used as a central police station while the rest of the fort is populated by civilians.
Locations
Edit
Sells and buys a large variety of goods
Produces water, leather jacket, shoes, tagelmust, and forage
Edible produces are insects and jerboa meat
Weapon Store
Edit
Heals injured people for 96.00 per point
Does Eye Surgery for 24000.00
Does Lower Limb Surgery for 19200.00
Repair Shop
Edit
Repairs damaged carts for 25.00 per point
Repairs damaged vehicles for 70.00 per point
Holding Cell
Edit
Remands prisoners and gives rewards
Police Academy
Edit
Trains people for 8000.00/Day

First Aid X 50
Dodge X 50
Rifles X 35
Pistols X 40
Unarmed X 25
Close Combat X 100
Ranged Weapons X 50
Battle Experience X 200
Industries
Edit
Town's Industries
Edit
Water Well
Leather Jackets Production
Shoes Production
Tagelmust Production
Forage Cultivation
Insect Farming
Jerboa Breeding
New Industry
Edit
Leather Vests Production
Hats Production
Special Characters
Edit
Captain Mustaparta
Edit
The captain of the police station in Fort Mitchell.
Good place to sell alcohol
Best place to buy textile despite not producing textile