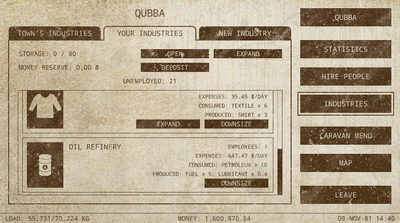 In region Qubba or any other region that buys a normal thing on a crazy price... it opens your hand for abuse... :P
But in Patrolton, due to unbalanced Forage and goat breeding ... you can sell goat milk on crazy price... but town doesn't own much things to return you... 
Don't Give up... You can still build a huge storage ... then sell the remaining goat milk or meat to the city... you will not only earn your cash and profit... you will also have an infinite storage you can have to store anything you like (from carts and cars to all collectibles all over the world... you can have your huge free storage in the game)
What you need :
A good caravan with Carry weight of 20,000 Kg ! * (less weight makes this building storage too long!) 
A little Cash ( like 400,000 $ to buy the milk or the meat...)
Test if the cash you invest on Industry goes to market... if it doesn't its either a bug or the Developer mr.Dimitry has solved this spot ...
you'll have your 100,000 Kg storage in no time... and if you are patient... i think you'll have a 1 Mil kg storage ... :P