There are many locations in the game of Caravaneer 2, and they are all discovered over time either by buying maps from specific general stores or as part of quests. Many of the locations are cities which usually have a market, store, and various facilities and people. Some of the other locations are quest related areas, where you can usually find an important person. 
Full Map
Edit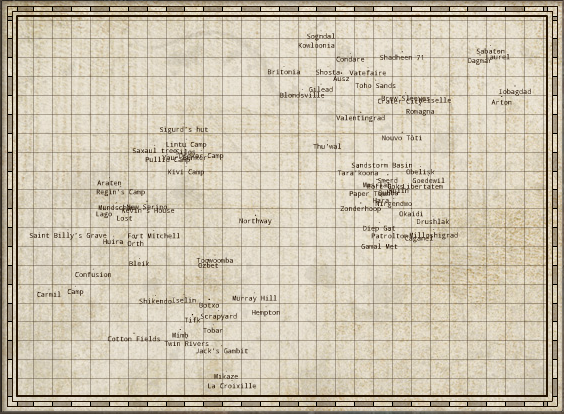 (*) Carmil is the player-given name of the Narizian Colony.

A full map with locations and regions, and all the characters and facilities:
Tribal Region
Edit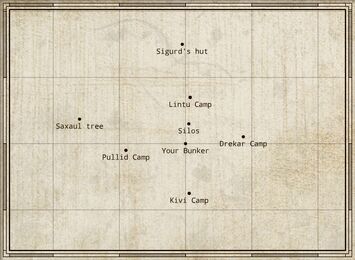 Towns: Drekar Camp, Kivi Camp, Lintu Camp, Pullid Camp
Special Locations: Saxaul Tree, Sigurd's Hut, Silos, Your Bunker

Alkubra Map
Edit
Towns: Araten, Bleik, Confusion, Fort Mitchell, Huira, Lago, Lost, Mundschau, New Serino, Orth
Special Locations: Camp, Kevin's House, Narizian Colony (Carmil), Regin's Camp, Saint Billy's Grave

 Janubi Map
Edit
Towns: Botxo, Iselin, Jack's Gambit, La Croixille, Mikaze, Mimb, Murray Hill, Ozbet, Scrapyard, Shikendo, Tifk, Toowoomba, Tobar, Twin Rivers
Special Locations: Cotton Fields, Winchester Hamlet / Hempton, Shikendo

Qubba Map
Edit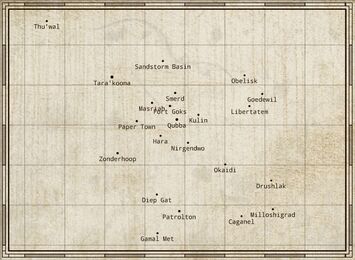 Towns: Caganel, Diep Gat, Drushlak, Fort Goks, Gamal Met, Goedewil, Hara, Kulin, Libertatem, Masriah, Milloshigrad, Nirgendwo, Obelisk, Okaidi, Paper Town, Patrolton, Qubba, Sandstorm Basin, Smerd, Tara'koona, Thu'wal, Zonderhoop
Special Locations: N/A
The Federation Map
Edit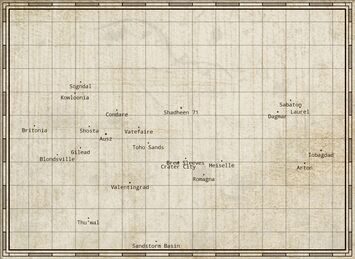 Towns: Arton, Ausz, Blondsville, Brew Sleeves, Britonia, Condare, Crater City, Dagmar, Gilead, Heiselle, Iobagdad, Kowloonia, Laurel, Romagna, Sabaton, Shadheen 71, Shosta, Sogndal, Toho Sands, Valentingrad, Vatefaire
Special Locations: N/A
Most towns have a market to buy and sell things, along with one or more other usable buildings, such as weapon stores, general stores, or various other markets. Some towns also have special buildings, like academies (trains mercenaries/volunteers (other than the player) in various skills) or a police station (remand prisoners for their bounties). You can also often find people for quests or sometimes trading in towns. In certain towns you can buy some local industries. Below is a list of all towns and links to each of their pages.
(*) Walled town; cannot be entered if you have negative reputation with affiliated faction
Special Locations
Edit
Special Locations are usually locations only found within Story Mode (with the exception of Cotton Fields). Special locations are not considered Towns, thus meaning that Prisoners and Slaves cannot be freed in that Location without having to travel to an actual Town (notable with The Narizian Colony).
Note that the population of Hempton will be increased by escorting freed slaves there. Since you need to be on the Liberation storyline for this town to exist, most likely the freed slaves will be acquired from the Grune Gang while you are traveling here from the east, e.g., Gamel Met. Alternately, you can buy slaves and free them in the desert on your way here, choosing to escort them, but your Slaver reputation will suffer if you do that. Otherwise, the population of Hempton will increase very slowly.
Escorted freed slaves will disappear from your caravan when you enter Cotton Fields, but the population of the town will not increase.