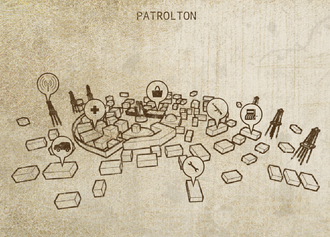 Patrolton is a town in the Qubba region. Unlike the surrounding Southern Qubba Towns, Patrolton is the most advanced Town in the Southern Qubba region.
It's also a reference to the Desert Patrol, a faction in Part 1 and according to Nikuban (Ozbet)They have defeated the corrupt Qubba Government. The leader of the Desert Patrol was John Sheppard,who plays a role in Liberation Army->Qubba storyline.
'till 80 years ago the town's name was Verdammtier Platz
Locations
Edit
Buys and sells a large variety of goods
Produces water, trousers, leather jacket, wool, skin, tallow, textile, vests, shoe, forage, and petroleum
Edible produces include lamb, goat meat, insect, sheep milk, and goat milk
General Store
Edit
Sells weapons, ammo, containers, tools, solar panels, etc
Weapon Store
Edit
Transport Store
Edit
Sells animals, carts, and vehicles
Heals injured people for 180.00 per point
Does Eye Surgery for 45000.00
Does Upper Limb Surgery for 27000
Does Lower Limb Surgery for 36000
Repair Shop
Edit
Repairs damaged carts for 120.00 per point
Repairs damaged vehicles for 336.00 per point
John Sheppard's House
Edit
Install Transmitter
Edit
Industries
Edit
Town's Industries
Edit
Water Well
Trousers Production
Leather Jacket Production
Sheep Breeding
Insect Farming
Goat Breeding
Cotton Processing
Vests Production
Shoe Production
Forage Cultivation
Oil Drilling
New Industries
Edit
Shirts Production
Leather Vests Production
Alcohol Distillery
Goat Cheese Production
Sheep Cheese Production
Cow Cheese Production
Special Characters
Edit
John Sheppard's caretaker
Plays a Role in the Qubba Storyline
According to Nikuban he is over 100 years old now.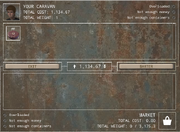 The General Store can potentially sell advanced items such as Solar Panels
Due to a lack of sufficient Forage to supply the Goat/Sheep Breeding Industry, Goat Meat/Milk and Lamb/Sheep Milk can be sold at inflated prices
The image of Patrolton features two statue-like figures - One dedicated to John Sheppard and the other to the Caravaneer 1 Protagonist .